Vertical Panels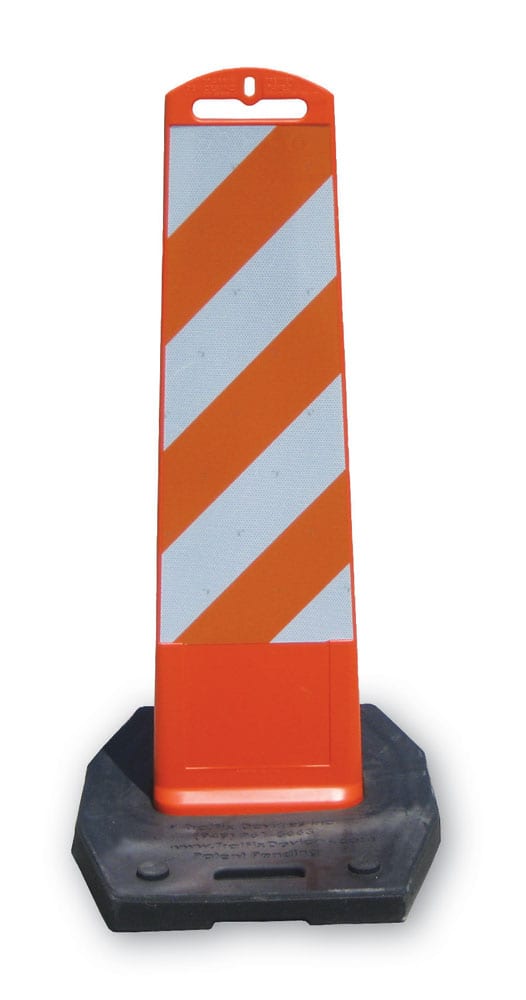 Premier Panel™ 40000 Series
Premier Panel is an all plastic and rubber vertical panel barricade that is designed to take repeated impacts with little or no damage to the Premier Panel or to the impacting vehicle.
TrafFix Premier Vertical Panel is designed with a convenient handle which allows for easy movement and placement of the Premier Panel.
The Premier Panel accepts all standard and "D" cell Barricade
Lights and stacks for easy storage and transport.
---
Traffic Drums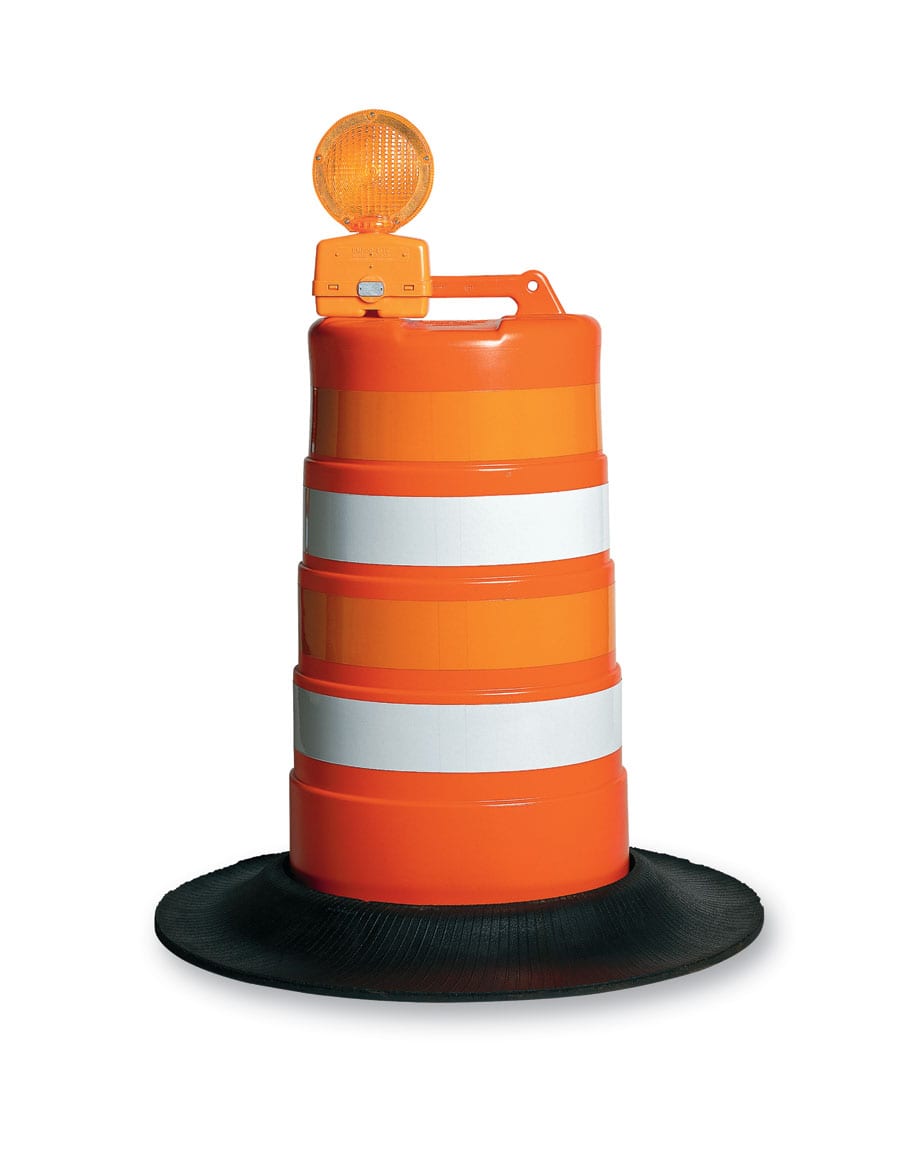 Tire rings available separately.
Drum is a minimum of 18″ wide throughout its 36″ height, regardless of orientation
Tapered design allows stacking with or without barricade lights for easy handling and storage
Drum and base remain "snapped together" until impacted or separated for transportation and storage
Gentle curves throughout drum eliminate sharp edges or corners that crack and break when impacted
Built-in carrying and dragging handle
Two mounting holes for optional barricade lights
Bright orange color molded throughout drum – UV inhibitors minimize fading
NTPEP tested-meets or exceeds MUTCD specifications
---
HSP Barricades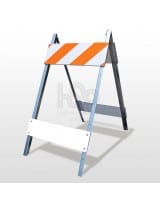 Type 1 Barricade
Used to alert drivers of construction, maintenance, and utility operations.
Durable construction featuring interchangeable components.
14 guage galvanized angle iron legs.
8 inch retroreflective top panel
6 inch painted bottom panel.
Open hinge hole for mounting a barricade light.
NCHRP 350 approved (WZ-85/WZ-144) and meets MUTCD Standards.
Dimensions: 45″ high x 24″ wide
Traffix Grabber Tube II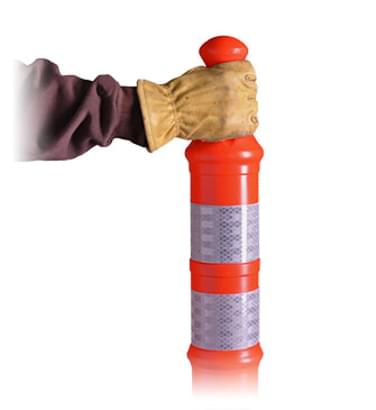 Bright red orange color molded throughout
UV inhibitors to minimize fading
Grabber Handle fits your hand better and makes movement and placement a breeze
Bases will not crush when run over
Meets Federal MUTCD standards
Available with various size and types of reflective sheeting
Three (3) recessed sheeting areas to help protect the reflective bands from tearing and scratching
Grabber Hole in the stem provides convenient carrying handle for movement and deployment, even off the bed of a work truck
Airport Barricades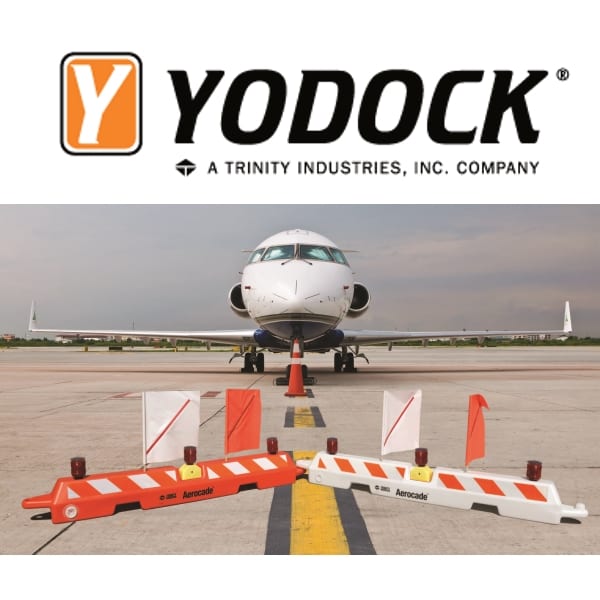 The Aerocade® complies with FAA Advisory Circular 150/5370-2F requirements.
• Barricade available in orange or white.
• Reflective sheeting for improved visibility.
• Can be accessorized with lights and flags.
• Stackable for efficient transportation and storage.
• Light-weight system eliminates the need for large equipment.
• Jet blast resistant when properly filled with water.
• FOD free
• Collapsible
Water Barriers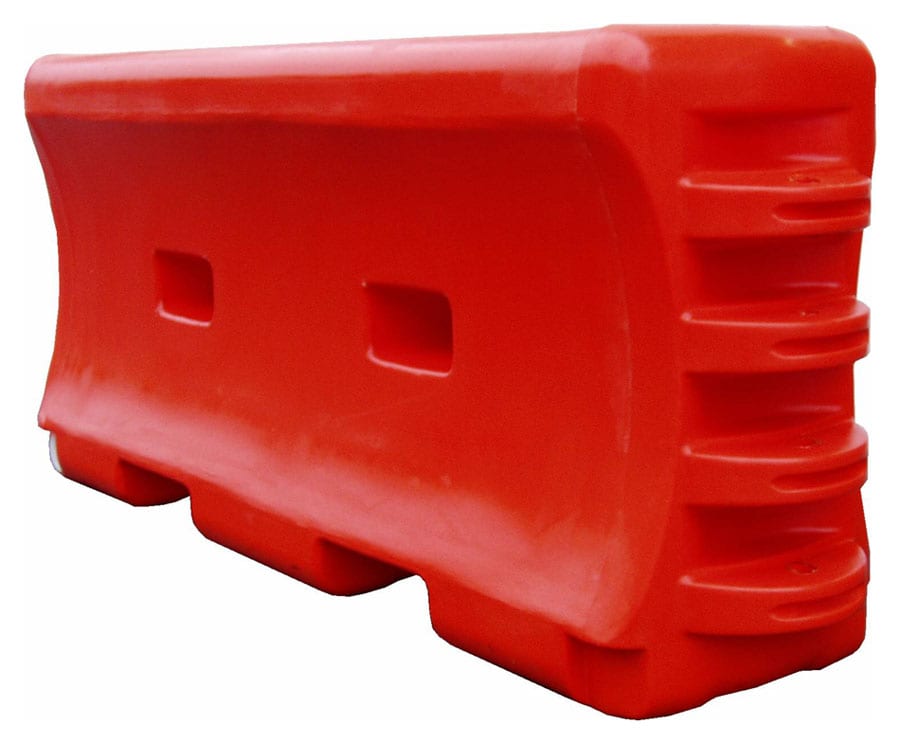 32″ Tall by 6′ Long
Available in White or Orange
80 lbs Empty and 1110 lbs filled with water.
Durable polyethylene plastic minimizes cracking and breaking
Molded through holes eliminate bowing when filled with water
Double wall knuckle design minimizes breakage at hinge points
Hinge design allows for a 30° pivot between sections
Large 8″ fill hole speeds filling process, includes twist-lock plastic cap
New tamper resistant, corner offset drain plug with coarse buttress thread – screws in or out in only 2 ½ turns
Includes one steel connection pin that allows sections to be locked together
Forklift/Pallet Jack slots at bottom allow for easy movement and transport
Standard colors are orange/red or white – additional colors available upon request
---
ADA Wall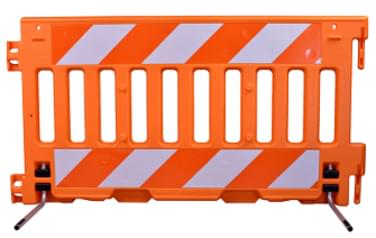 • Ergonomic handrail provides a comfortable and secure guide through the workzone
• Locations for two (2) Barricade Lights
• Protect pedestrians from workzone hazards
• Four (4) molded-in Stacking lugs for secure transport and storage.
• Two standard colors available: Orange and White
• Custom colors available upon request
• UV inhibitors to minimize fading
• Made of flexible low density polyethylene
• Stackable for easy storage and transportation
• Available with various size and types of relfective sheeting
• Parades/crowd control
• Pedestrian traffic control
• Barricade construction work zones
• Blow Molded connectors provide strength and flexibility
• Linked ADA Walls can be rotated ≈120°
Round Tube Channelizers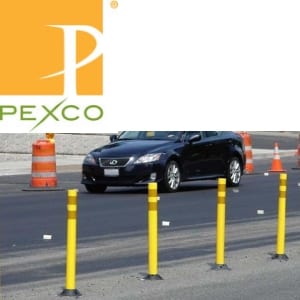 3" Round Channelizer Post
Made of Highly Durable Thermoplastic Polyurethane for High Impact Resistance
360° of Reflective Visibility
Stands Up to Extreme Temperatures
No Metal Parts to Rust or Seize
Ultraviolet Resistant
1-Piece Post Construction
Simple Installation
NTPEP Tested
MUTCD Compliant
Spring Stands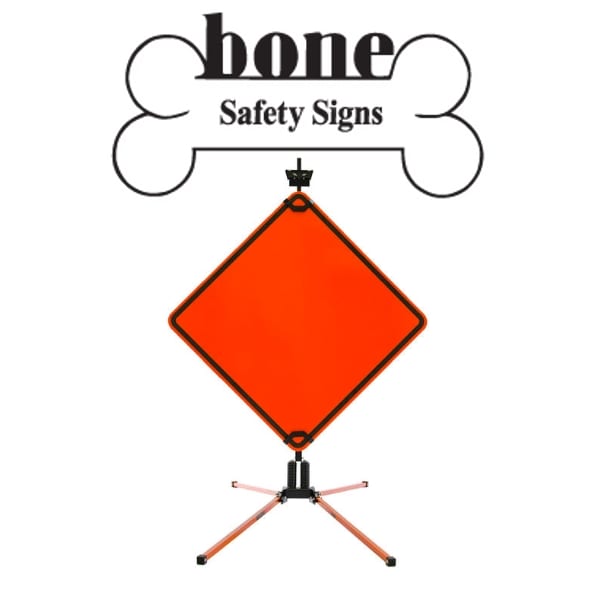 • Easy storage
• Dual coil spring design
• Both pull pin and kick release of legs
• 3 separate height adjustments for uneven terrain
• Bright orange colored legs for extra visibility on curbs and sidewalks
• Outdoor UV powder-coated and zinc plated for maximum corrosion resistance
• Approved for roll up signs or rigid signs up to 48 x 60
• Weight 41 lbs / 48 lbs.w/rigid assm.